The illustrations below were designed by the German artist and naturalist, Maria Sibylla Merian. The plates were originally prepared for a mid-1670s book on the metamorphosis of caterpillars into butterflies. However, the scientific community of the time largely ignored Merian's work because it wasn't published in Latin, the formal language of science.

Some forty years later, Merian finally reworked and expanded this earlier book on European insects. Sadly, she died shortly before the completed book - in Latin, finally - was readied for publication in 1717 as 'Erucarum Ortus..'. The full title of the book is said to translate as: 'The Miraculous Transformation and Unusual Flower-Food of Caterpillars'.

Merian's portrayal of plants and insects in a semi-naturalistic way was something of a step forward in the world of scientific illustration. Many of her contemporaries 'arranged' the illustrated scenes to show man's domination over nature, or took liberties with embellishment to impress and dazzle the audience.

"For her period, her work is scientifically accurate and she is considered by modern scholars to be one of the founders of entomology, the study of insects." [source]
'Erucarum Ortus'
features some 150 plates of butterflies, caterpillars, moths and other insects together with their associated plants. The book is divided into three sections and about half of the first section of illustrations - in
this
particular copy - has been enhanced with hand-colouring. The balance of engravings below were sampled from throughout the book. The opium poppy plate was cropped back to the engraving plate margin; all others were chopped off at the page edge. I haven't checked whether all the hand written species names on the book pages are correct or not.
"Although the 'Erucarum Ortus' appeared one year after her death, Merian was very much involved in its publication. From at least 1705 she had intended to issue her work on European insects in Latin and Dutch, completing it with a third part. Ill health at the end of her life delayed publication of the third part until just after her death, but the complete Latin edition followed only one year later." [source]
'Among the most important works in her oeuvre is her work on the feeding and growth of European caterpillars ... because these volumes contain both illustrations and texts, they provide a wealth of insights into Merian's interests with respect to art and nature, the intentions she sought in her work and the public for whom that work was intended. A unique primary source of information about a baroque painter, [..] ['Erucarum Ortus, Alimentum et Paradoxa Metamorphosis'] is also an invaluable historical source as a document of the popularisation of natural history in the early Enlightenment period.' (Heidrun Ludwig, 'The Rapuenbuch. A popular natural history', in Maria Sibylla Merian 1647-1717 Artist and Naturalist 1998, p.53) [source].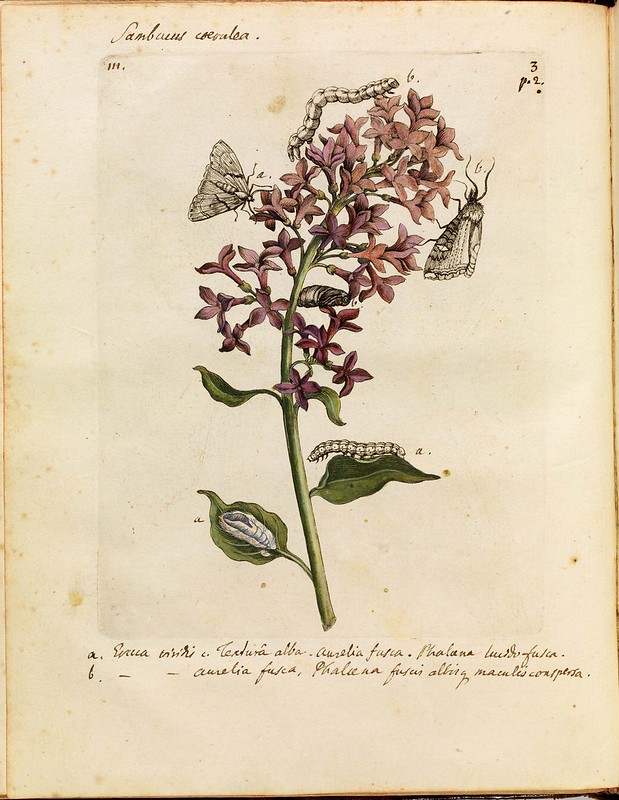 "Maria Sibylla Merian

(1647-1717)

was one of the greatest artist-naturalists of her time. From childhood she had been fascinated by the life cycles of butterflies, and she made a close study of their transformations. She became a flower-painter and teacher in Nuremberg, Frankfurt and Amsterdam." [source]
"In 1711 Maria suffered a stroke and although greatly disabled, continued her work for a further six years. she died in Amsterdam on 13th January, 1717. The register of deaths lists her as a pauper, but in spite of this she had her own grave. In the same year her daughter published for the first time all three parts of her mothers life's work under the title 'Erucarum Ortus Alimentum et Paradoxa Metamorphosis' [..]
There are a number of versions of how the entire works of this extraordinary woman ended up in Russia. the most reliable record is that the works were purchased by Tsar Peter the Great, personally, during a visit to western Europe, only days before Merian's death in 1717. Upon the Tsar's death in 1725, the works were presented to the Academy of Sciences [in Germany] where they reside today." [source]